Chicken gizzards are healthy because they are low in fat and high in vitamins.
Gizzards contain the B12 vitamin which aids in forming niacin which produces hormones, riboflavin which keeps your hair and skin healthy. It also creates white blood cells and promotes great brain function.
This delicious and hearty chicken gizzard stew can be made on a tight budget and is easy to prepare.
Serve your gizzard stew on a bed of white fluffy rice, or any other starch side you and your loved ones prefer.
Chicken gizzard stew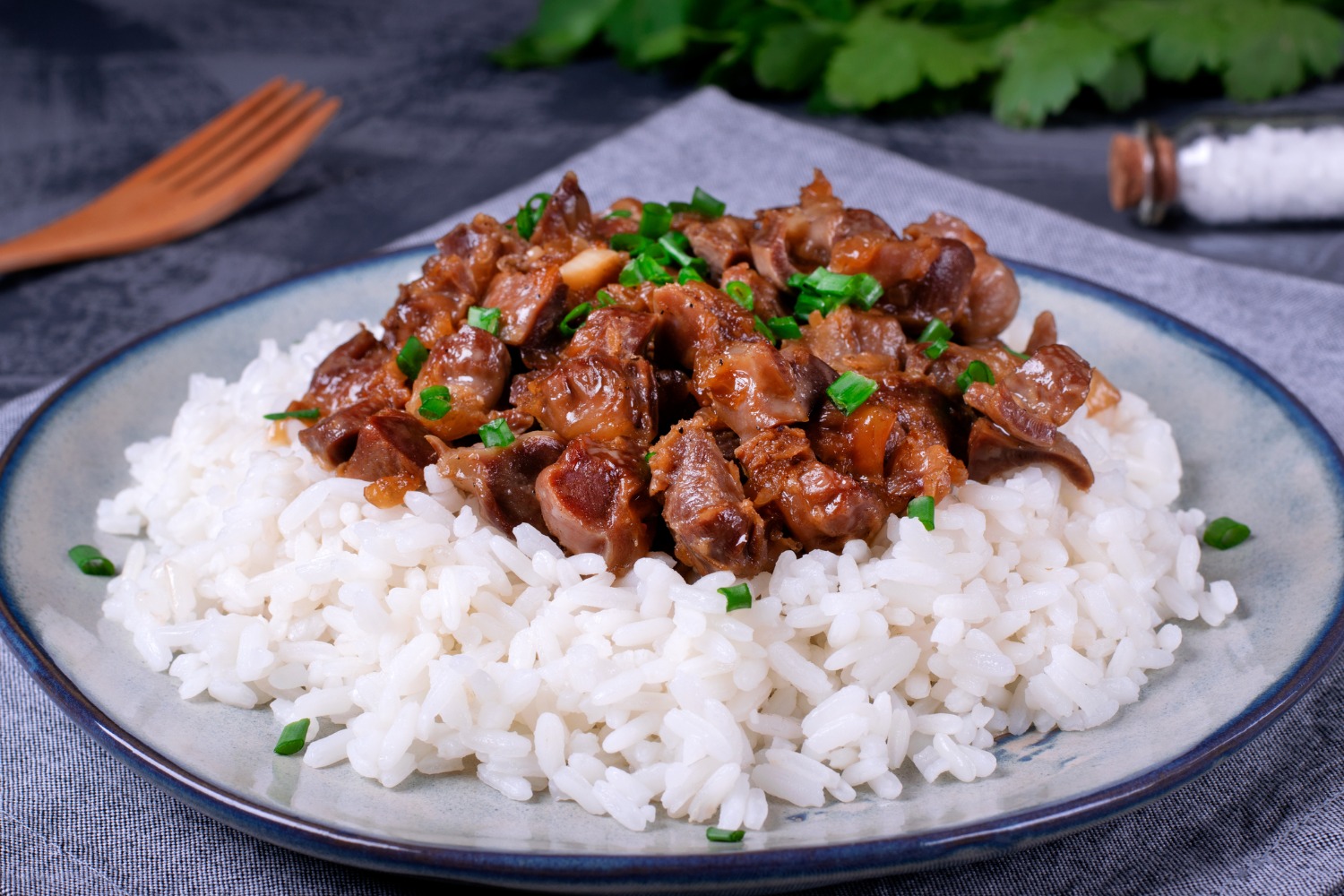 Ingredients
450g of chicken gizzard
4 slices of bacon
1 bottle of chicken broth
2 carrots, peeled and chopped
1 small onion, minced
4 stalks of celery, minced
2 teaspoons of dried oregano
1 teaspoon of dried thyme
1 poblano pepper, seeded and minced
6 cloves of garlic, minced
2 teaspoons of crushed red chilli pepper
1 cups of tomatoes, canned or fresh, chopped finely
½ cup of red wine
¼ cup of white vinegar
4-6 dry bay leaves
2 teaspoons of Worcestershire sauce
Parsley sprigs for garnishing
ALSO READ: Recipe of the day: Honey-masala spatchcock chicken and rice
Instructions
Take a gizzard at a time and chop into 4 pieces. Repeat the same for the rest and set aside.
Heat up a large Dutch oven over medium heat and fry the bacon slices until the fat has rendered out. Remove them and set aside.
In the bacon fat, sauté the onion until it starts to turn golden brown for about 8 minutes. Raise heat to medium high and add carrots, celery, pepper and garlic. Sauté for 2 minutes and then add thyme, oregano, and red chilli flakes.
Stir in tomatoes and let them brown slightly for about a minute, scrape the bottom and let them sit again. Repeat this for 3 to 4 times.
Stir in wine, vinegar, chicken broth, Worcestershire sauce, and bay leaves. Add gizzards. Bring it to a boil. Don't hard boil or else your gizzards will toughen up.
Reduce heat to low, cover and simmer for 2½-3 hours, stirring occasionally or meat is very tender.
Serve the stew over plain white rice, topped with parsley and crumbled bacon.
This recipe was found on allchickenrecipes.com