Welcome back to "Glowing Review," a monthly exploration of self-care, wellness and health trends presented by RosieGlow Skin Studio! I'm Ali Evans, and I should be honest that basically nothing qualifies me to write this column other than my own curiosity towards all things self-care, and general apathy towards the potential to embarrass myself. (That last part is important because this month's article comes with a photo of me with my head in an oxygen dome.)
I've only been on the planet for 34 years, but if there's one thing I know for sure, it's that I'm the best version of myself when I'm taking care of me. Whether that's spending quality time outside enjoying this sensational weather, setting time aside to read, or even something simple like drinking plenty of water, I'm able to be my best self for the people I love when I'm committed to self-care and respecting my body.
My friend Jenny at RosieGlow Skin Studio is committed to making her clients feel good on the inside and on the outside. When we discuss treatments and products, and I know that she's only going to share suggestions that will help me glow on the inside too.
The Oxygenate Facial at RosieGlow provides a whole lot of Hydration, skin plumping and soothing, and of course – relaxation! This is the perfect treatment to try before your Friendsgiving celebration, or your Holiday party at work. You'll be putting your best face forward while you worry that no one likes your green bean casserole. (I don't know why they wouldn't, I'm sure it's great.)
The Oxygenate Facial includes the use of an oxygen infusion gun to re-energize skin cells, as well an oxygen dome. You're going to walk out with cleaner, brighter and healthier skin.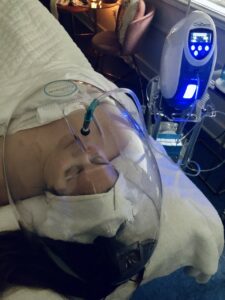 I know that everyone's expectations with self-care investments are different. I use the "Self-Care Scale" in each edition of Glowing Review so you can choose what to try based on what matters the most to you.
Experience: "Oxygenate Facial" at RosieGlow Skin Studio.
Relaxation Level: 9. I'll tell you what, once you get over how silly you might look with that oxygen dome on your head, this is a pretty relaxing experience.
Painful Meter: 0. I didn't personally feel any pain during the Oxygenate Facial, but Jenny knows I'm a big wuss and doesn't always do extractions when I visit her. There's a good chance that's included and I am blissfully unaware.
External Results: 8. I left looking and feeling like I had work done. My skin was that glowy and plumped!
The Oxygenate Facial isn't the only option at RosieGlow, so be sure to check out her other experiences to book an appointment and see for yourself. I have a pretty solid skin care routine, including expensive lotion, weekly sheet masks, and whatever a jade face roller does, and I can still see awesome results. After all these months of wearing masks everywhere, this is a great way to earn some quick extra credit for you skin. You'll leave glowing on the inside & out!
I'll see you next month with another experience to share!
---
RosieGlow Skin Studio offers facials, microdermabrasion and chemical peels, oxygen therapy, LED treatments as well as the best products to use at home. They proudly use non-toxic, eco-friendly and cruelty free Sanita Skincare products that are specially designed to improve your skin's health. Located inside the For Women Holistic Gynecology and Conscious Wellness clinic, they are committed to providing a judgement free escape from stress and solution based skin treatments.
Related