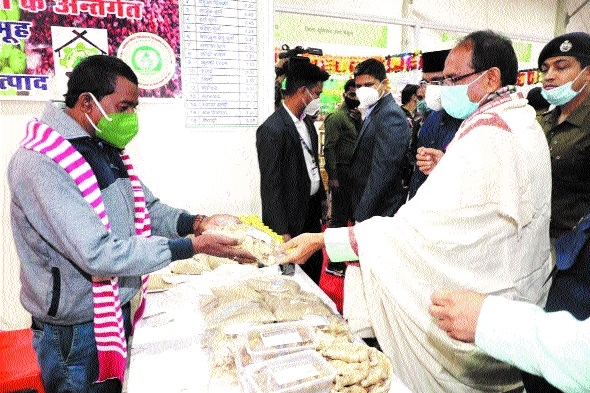 Chief Minister Shivraj Singh Chouhan taking stock of forest
produce at a stall in Van Mela organised at Lal Parade Ground
in Bhopal, on Wednesday.
Staff Reporter :
Chief Minister Shivraj Singh Chouhan inaugurated International Herbal Fair (Van Mela) organised by the Forest Department at Lal Parade Ground in Bhopal on Wednesday. He said that prevailing works of forest produce sale will be decentralised. The Chief Minister added that special focus will be paid on processing of minor forest produces. Number of Van Dhan Kendra will be increased. He also said that by environment prospect, it is necessary to save forests. Efforts will be made that income of forest dwellers should increase from forest. He praised the buyer seller meet concept of the fair and said that such meet should be held more and more so that forest dwellers can get price of forest produce. He said that the herbal tea, honey and 'Chirongi' are State's brand and they should be promoted. He said that members of forest committees have put on display various products. He told that to make world better, there is need of medicines which are received from forests.
He underlined that demand of bamboo and products made from them is increasing. The cultivation area of bamboo is increasing. Hence, forest committees should promote bamboo production and earn better earning. Talking about indigenious medicines obtained from forests, he told that these medicines helped a lot during corona period. He said that Madhya Pradesh forests are like oxygen plant and they also gives nectar like medicines and helps in living healthy. Along with forest conservation, work is also being done on medicine production. On this occasion, Forest Minister Kunwar Vijay Shah said that Ayurvedic Kadha saved lives of many during coronavirus period. He also informed that for the first time, six to seven foreign Ayurved doctors are taking part in the fair.